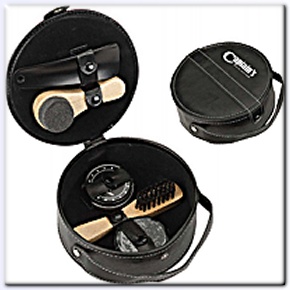 Shoe Care Kits

AM155
Shoe Care Kit

Description:
Complete shoe care kit, includes shoe horn, sponge, brush, neutral color polish and neutral color quick shine sponge. These are neatly packed in a convenient simulated leather round case with handle.

Size:
6" diameter x 2 1/4".

Imprint size:
2 1/2" x 1"

Imprint type:
a one color / one location pad, silkscreen imprint or heat transfer

Imprint Colors:
Standard

Lead time:
takes 10 days

Our Comments:
Great travel kit at a good price point.

A Division of American Solutions for Business - Muncie, IN

© 2020 Promo Shoehorns. All rights reserved.

email: rcr.church@gmail.com