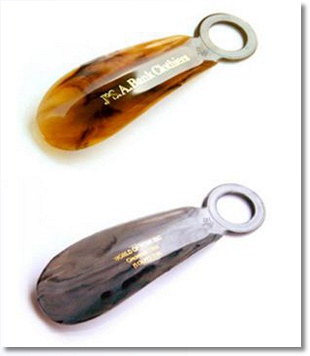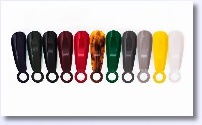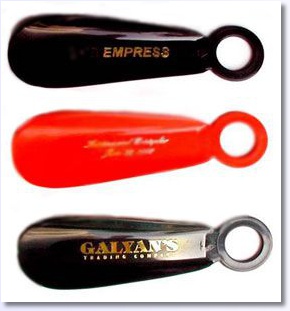 SH-10
Shoehorn
Solid Standard Colors

Shoehorn Colors:
Black, Royal Blue, Hunter Green, Burgundy, Red, Tortoise, Kelly Green, Dark Gray, Light Gray, Yellow and White. Custom colors & screen print available. Call for a quote.

Size:
5 3/4" H

Imprint size:
2 1/2" x 1/2"

Imprint type:
FPad Print

Imprint Colors:
Standard Colors

Lead time:
takes 3-4 weeks

Our Comments:
Very well constructed. The foil hot stamp is very classy. Love all the colors available. This is definitely the Cadillac of it's class.

© 2020 Promo Shoehorns. All rights reserved.

This is the perfect shoehorn where a high quality image is desired. Your Logo will look great on these upscale shoehorns

A Division of American Solutions for Business - Muncie, IN

SH-10
Shoehorn
Tortoise and Marble

email: rcr.church@gmail.com

Description:
A smaller shoehorn made in the USA. Strong and attractive. Molded of high grade plastic for strength & durability. Imprinted with a foil stamp for a very classy look.

Price

500

.56

1000

.51

2500

.46

5000

For a foil stamp imprint, add $.05 ea.
Foil Colors - Gold, Silver, Black or White

Set Up - $85.00
for foil; pad print $125.00

Price

Call

500

.77

1000

.70

2500

.64

5000

Call

Solid Colors with a one color pad print

Tortoise or Marble with a one color pad print

Plastic Shoehorn with a pad printed imprint or high quality foil stamped imprint