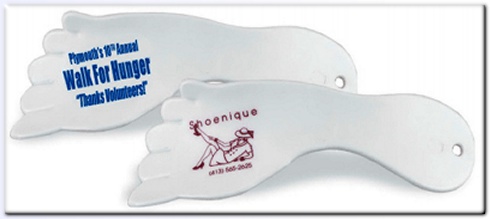 Plastic Shoehorns

SH-25
Foot Fitter Shoehorn

Description:
Foot fitter shoehorn. A unique foot design for clever advertising. Perfect for podiatrists and shoe stores. Molded in rugged impact plastic. Put your best foot forward.

Shoehorn Colors:
White

Size:
2" x 5"

Imprint size:
1 "x 1 1/2", one side, one color imprint

Imprint type:
Foil Hot Stamp

Imprint Colors:
Green; Metallic Gold; Metallic Silver; Orange; Pink; Process Blue; Purple; Red; Reflex Blue; Teal; White

Lead time:
takes 5 days

Our Comments:
Unique, for that special promotion

A Division of American Solutions for Business - Muncie, IN

© 2020 Promo Shoehorns. All rights reserved.

email: rcr.church@gmail.com

Set up: $60.00

Price

350

.75

500

.71

2500

.65

1000

.58

With a one color imprint