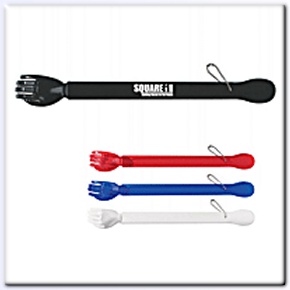 Plastic Shoehorns

Set up:
$40.00

Reset:
$25.00

SH-26
Shoehorn

Description:
Back scratcher with shoehorn and ball chain attachment.

Shoehorn Colors:
Black; Translucent Blue; Translucent Red;
White

Size:
15" x 1 3/4"

Imprint size:
5" x 1/2"

Imprint type:
Pad Print one color, one location.

Imprint Colors:
Athletic Gold; Brown; Forest Green; Gray; Kelly Green; Light Blue; Maroon; Metallic Gold; Metallic Silver; Navy Blue; Orange; Pink; Process Blue; Purple; Red; Royal Blue; Tan; Teal; Yellow

Lead time:
7 days

Our Comments:
Nice long shoehorn & backscratcher.

A Division of American Solutions for Business - Muncie, IN

© 2020 Promo Shoehorns. All rights reserved.

email: rcr.church@gmail.com