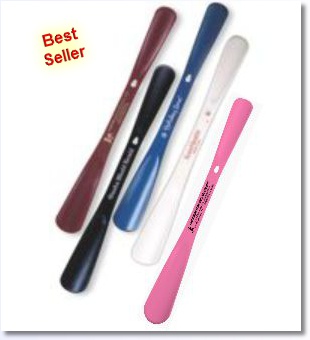 SH-29

Plastic Shoehorns

Description:
His-N-Hers. Two-in-One shoehorn for both men and women. Two sizes in one. Shoe horn measures 1-3/4" x 16". Made in the USA.

Shoehorn Colors:
Black, Dark Blue, Cordovan, Off white and Pink

Size:
1 3/4" x 16"

Imprint size:
3 1/2" x 1/2"

Imprint type:
Hot Stamp or letterpress.

Imprint Colors:
Yellow, Gold, Orange, Brown, Maroon, Red, Light Green, Green, Light Blue, Medium Blue, Dark Blue, Silver, White, Black.


Our Comments:
Sturdy. Nicely finished. Unique with it's dual function.

With a one color imprint

Price

Set up:
$40.00

Reset:
$20.00

250

© 2020 Promo Shoehorns. All rights reserved.

1.48

His-N-Hers Shoehorn

500

1.41

1000

email: rcr.church@gmail.com

1.37

A Division of American Solutions for Business - Muncie, IN

With a full color imprint on Off white only

2500

Call

Price

Set up:
$40.00

Reset:
$20.00

250

1.85

500

1.74

1000

1.66

2500

Call