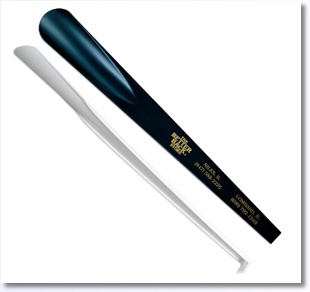 Plastic Shoehorns

Description:
A nicely finished shoehorn with an ample imprint area.
• Functional and affordable.
• Made in USA.

Suggestions Slogans:
to tie in the Traveler's Shoehorn to your product or service are.....
"Slip In For A Loan"
"Step Up To Quality At . . ."
"Stay In Step"
"Walk-Ins Welcome"
"In Step With Your Needs"
"For Service That's Fitting"
"Put Your Best Foot Forward"


Shoehorn Colors:
Black, White

Size:
Approx. 15" x 11/16" x 1 11/16"

Imprint size:
:Tapered 7" x 3/4" to 1/2"

Imprint type:
Pad Print

Imprint Colors:
Orange, White, Warm Red, Red, Burgundy, Teal, Blue,
Green, Gray, Brushed Silver, Brown, Brushed Gold, Yellow,
Pink, Purple, Black, Blue Process


Our Comments:
Nice shoehorn with it's long reach. Makes a great appearance with a large imprint area. Works as a backscratcher too.

SH-30
Shoehorn/Backscratcher

A Division of American Solutions for Business - Muncie, IN

© 2020 Promo Shoehorns. All rights reserved.

email: rcr.church@gmail.com

Price

250

1.75

500

1.67

750

1.60

2500

1.53