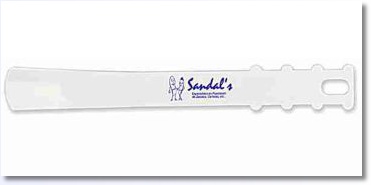 Plastic Shoehorns

SH-31
Big E-Z Shoehorn

Description:
Big Easy shoehorn. A giant, 12" long assistant that makes a hard job easy. Molded in tough, ABS plastic for long lasting service and long lasting appreciation. Exclusive, easy grip, non-slip handle. Reduce bending, reduce strain.

Shoehorn Colors:
White

Size:
12" L

Imprint size:
7/8" x 3"

Imprint type:
Printed

Imprint Colors:
Black; Brown; Burgundy; Dark Blue; Dark Green; Gray; Green; Metallic Gold; Metallic Silver; Orange; Pink; Process Blue; Purple; Red; Reflex Blue; Teal; White; Yellow

Lead time:
takes 5 days

Our Comments:
A longer shoehorn at a great price.

A Division of American Solutions for Business - Muncie, IN

© 2020 Promo Shoehorns. All rights reserved.

email: rcr.church@gmail.com

Price

250

1.62

500

1.54

1000

1.32

2500

1.15

Any Quantity 250 or more only
99
¢


With a single color imprint