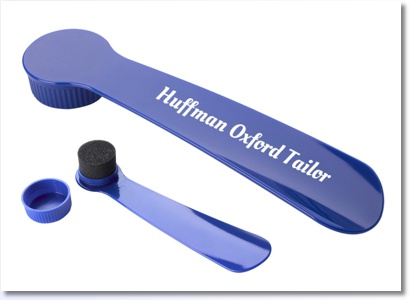 Plastic Shoehorn with Shoeshine

Description:
A combination shoehorn with a polishing pad on the end. Makes a great travel item.

Shoehorn Colors:
Black, Blue or White

Size:
8 1/2" x 2"w

Imprint size:
3" x 1/2"

Imprint type:
Pad Print

Imprint Colors:
Standard Pad Print Colors

Lead time:
takes 2-3 weeks

Our Comments:
How many times have you needed to touch up your shoes while traveling. Here is a great answer.

© 2017 Promo Shoehorns. All rights reserved.

A Division of American Solutions for Business - Muncie, IN

Quanitiies of 250 or more
Blue or White only

Additional Color:
.25
ea.

Set Up:
$40.00

Reset:
$25.00

email: rcr.church@gmail.com