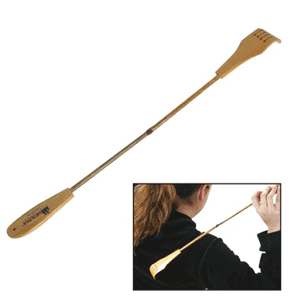 SHW-3
Shoehorn/Backscratcher

Description:
Even when you're starting from "scratch," you'll always be a "shoe-in" once you include this hand-held bamboo back scratcher in your promotions! This wooden bamboo back scratcher includes a shoe horn. This "handy" functional favor is great for any business, project, conference, convention or event. Have your logo imprinted so everyone toots your "horn" and you know success like the "back" of your hand!

Shoehorn Colors:
Wood/bamboo.

Size:
Approx. 18 1/2" x 1 1/2"

Imprint size:
: 1 1/2" x 1/2"

Imprint type:
Pad Print

Imprint Colors:
PMS. PMS Color Match is free of charge but cannot be guaranteed to match 100%, only as close as possible. It cannot be guaranteed on dark color items or stainless steel. It is not available on four color process artwork.


Our Comments:
A nice backscratcher,long enough to reach the hard spots & rigid enough to adequately scratch. A great multi-function item sure to get you noticed. Eco friendly, sustainable. The imprint is not overly large.

Eco friendly, sustainable

Wood/Bamboo/Metal Shoehorns

A Division of American Solutions for Business - Muncie, IN

© 2020 Promo Shoehorns. All rights reserved.

email: rcr.church@gmail.com